Engineering and society: Embedding active service learning in undergraduate curricula
Fogg Rogers, Laura; Fowles-Sweet, Wendy
Authors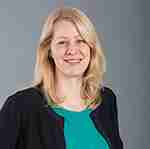 Abstract
Background
Universities occupy a vital role in the community; thus undergraduate education incorporating active service learning provides opportunities to influence communities now and in the future (1). One example is engineering education outreach; activities shown to increase interest and engagement with science and engineering for school children (2,3), provide teachers with expert contributions to engineering and scientific subject knowledge (4), and develop professional generic skills for engineers such as communication and teamwork (5).
Methods
Students (N=30) from engineering degrees at UWE are taking a newly developed 'Engineering and Society' module. The students are paired with 30 pre-service teachers taking an Initial Teacher Education degree. Training is provided in public engagement, science and society, and inquiry-led science education. Continuing professional development and peer support is also provided by professional teachers and engineers in the region. The paired students mentor each other to co-develop and deliver outreach interventions for local classes of primary school children.
A pre and post longitudinal mixed methods design will measure changes in attitudes and Education Outreach Self-Efficacy in student engineers; alongside attitudes, Teaching Engineering Self-Efficacy and Engineering/Science Subject Knowledge Confidence in pre-service teachers; as well as impacts on the children.
Results
The pilot study showed highly significant improvements in the pre-service teachers' confidence and self-efficacy; while both the teachers and engineers qualitatively described professional benefits arising from the paired peer mentor model (6). It is hoped this new embedded model of education will provide real-world experience and opportunities for engineers and teachers – thus impacting generations of children to come.
| | |
| --- | --- |
| Presentation Conference Type | Speech |
| Start Date | Sep 22, 2017 |
| Publication Date | Sep 22, 2017 |
| Peer Reviewed | Peer Reviewed |
| APA6 Citation | Fogg Rogers, L., & Fowles-Sweet, W. (2017, September). Engineering and society: Embedding active service learning in undergraduate curricula. Presented at Unibility: Conference on University Social Responsibility, Barcelona, Spain |
| Keywords | engineering, women in engineering, science communication, public engagement, undergraduate curricula, active learning, service learning |
| Additional Information | Title of Conference or Conference Proceedings : Unibility: Conference on University Social Responsibility |
Files
Engineering and Society - Embedding active service learning in undergraduate curricula.pdf (1.6 Mb)
PDF
You might also like
Downloadable Citations