Peoples' experiences of painful diabetic neuropathy: Are pain management programmes appropriate?
Davies, Ben; Cramp, Fiona; Gauntlett-Gilbert, Jeremy; McCabe, Candida S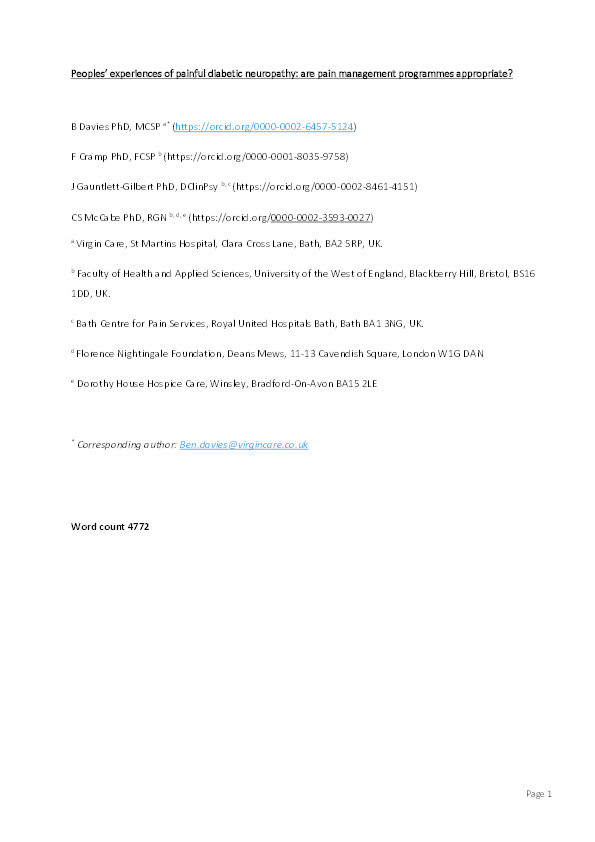 Authors
Fiona Cramp Fiona.Cramp@uwe.ac.uk
Professor in Long Term Conditions
Abstract
Objective: Painful diabetic neuropathy (PDN) is a painful complication of diabetes. This study aimed to explore: (1) strategies used by participants to manage impacts of PDN and (2) their perspectives on whether strategies from pain management programmes (PMPs) had applicability for PDN.
Design: Participants were recruited through local National Health Service (NHS) diabetes and PDN clinics, and nationally from a diabetes support charity. One-to-one interviews were conducted. The transcribed data were analysed using inductive thematic analysis.
Results: Twenty-three people were interviewed who had PDN symptoms for mean 10 years. Four themes emerged from the data: seeking help and advice, pragmatic approach to management, perspectives on physical activity and perspectives on psychological coping strategies.
Conclusion: Some participants were open to the strategies advised by PMP strategies. There were also strong opinions that no exercise or psychological approach could help with diabetes-related pain. It is
possible PMPs as currently delivered need to be adapted to maximise engagement from people with PDN. Research is required to understand the healthcare priorities of people with PDN and whether these
priorities can be mapped to existing management strategies.
Citation
Davies, B., Cramp, F., Gauntlett-Gilbert, J., & McCabe, C. S. (in press). Peoples' experiences of painful diabetic neuropathy: Are pain management programmes appropriate?. British Journal of Pain, https://doi.org/10.1177/2049463721989753
Files
Peoples' experiences of painful diabetic neuropathy: are pain management programmes appropriate? (178 Kb)
Document
Licence
http://creativecommons.org/licenses/by-nc-nd/4.0/
Publisher Licence URL
http://www.rioxx.net/licenses/all-rights-reserved
Copyright Statement
Davies, B., Cramp, F., Gauntlett-Gilbert, J., & McCabe, C. S. (in press). Peoples' experiences of painful diabetic neuropathy: Are pain management programmes appropriate?. British Journal of Pain. Copyright © Sage 2021
https://doi.org/10.1177/2049463721989753
Peoples' experiences of painful diabetic neuropathy: are pain management programmes appropriate? (488 Kb)
PDF
Licence
http://creativecommons.org/licenses/by-nc-nd/4.0/
Publisher Licence URL
http://www.rioxx.net/licenses/all-rights-reserved
Copyright Statement
Davies, B., Cramp, F., Gauntlett-Gilbert, J., & McCabe, C. S. (in press). Peoples' experiences of painful diabetic neuropathy: Are pain management programmes appropriate?. British Journal of Pain. Copyright © Sage 2021
https://doi.org/10.1177/2049463721989753
You might also like
Downloadable Citations