Women Like Me Executive Summary 2019
Fogg-Rogers, Laura; Hobbs, Laura
Authors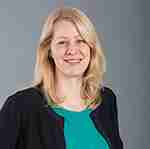 Dr Laura Fogg Rogers Laura.Foggrogers@uwe.ac.uk
Associate Professor of Knowledge Exchange in Engineering
Abstract
Only 11% of engineers in the UK are women. For democratic, utilitarian and equity reasons this is not enough. Both recruitment and retention are important – more girls need to connect with engineering as a creative, socially conscious, collaborative discipline, and more women need to be supported to make a difference in the workplace.
The 'Curiosity Connections – Women Like Me' project aimed to change this through tiered mentoring and role modelling. Previous Ingenious research by Laura Fogg-Rogers indicates how important peer group and leadership support is for women, providing vicarious experience and changing social norms. This means that women need peer support to thrive in the workplace, and that girls need to see women succeeding in STEM careers in order to feel that engineering is for them.
This project therefore paired 21 mid-career (senior) women engineers with 21 junior women engineers (less than five years' experience) in order to provide career and public engagement mentoring. The outreach activities resulted in over 10,240 children being engaged in public engagement with women engineers.
the junior engineers reported that they feel significantly more equipped to take part in public engagement, with 54% of junior engineers feeling fairly well equipped before the project, but this increased to 68% after the project, with 38% indicating they were very well equipped. Similarly, the mean score on the Engineering Outreach Self-Efficacy Scale significantly improved from 6.80 to 8.41 (out of 10). This indicates that the engineers are now much more confident to undertake education outreach, and are then more likely to continue public engagement following the project.
We therefore conclude that mentoring is highly important to ensure a supportive workplace, which means that women are more likely to be retained in the engineering industry.
Citation
Fogg-Rogers, L., & Hobbs, L. (2019). Women Like Me Executive Summary 2019. Bristol, UK: Royal Academy of Engineering
Files
You might also like
Downloadable Citations