How is counselling experienced by people with Asperger's syndrome?: A qualitative study
Wilson, Stephanie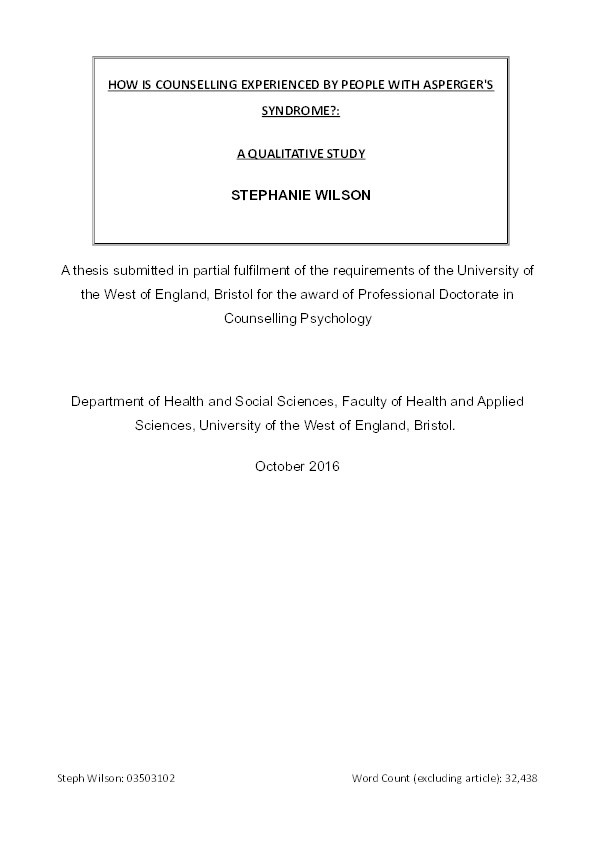 Authors
Abstract
Introduction: People with Asperger's Syndrome (AS) are known to have high incidences of anxiety and depression, meaning they sometimes seek counselling. The majority of authors writing about counselling for people with AS write from either psychodynamic or cognitive perspectives, advocating those approaches. Traditional counselling is based on communicating and exploring emotions but this is problematic for people with AS because of the core traits of (difficulties with emotions, socialising, communication, and sensory processing). For this reason adaptations are suggested by some therapists, for example, use of visuals, use of clear language, and psycho-education around recognising their own and other's emotions. There are some outcome studies and single case studies of therapy where the client has AS, however, the opinions and experiences of individuals have yet to be researched so the views of the client group are unknown. Clinicians and clients will benefit from the views of the client group being included in the literature base, particularly as therapists who do not have AS will not necessarily understand the experiences of people with AS. As well as this, there is currently a focus in much of the counselling literature on practical tools and adaptations (such as use of visuals) and an absence of discussion of the therapeutic relationship, something that is key for counselling psychologists. This research aimed to explore and report the counselling experiences of people with AS, including their views of the therapeutic relationship. The intention is for clinicians to be better informed about what people with AS do and do not want from counselling Psychology interventions.
Methodology: Thirteen semi structured interviews were conducted with adults (nine women) recruited from online groups for people with AS. Interviews were done via Email (11), Skype (one), and face-to-face (one) to explore their experiences of counselling. Methodological recommendations for conducting interviews with people with AS are discussed (e.g. minimising use of non-literal language). The transcripts were analysed using thematic analysis so that common themes relevant to the research aims could be reported.
Results: A thematic analysis of the data identified four overarching themes. 1) Being Aspie: Belonging and not belonging. This captured the participant's developing self-identity, from their experiences of being excluded by their peers and being regarded as different and strange, to their relief at being diagnosed and finding like minded people. 2) Why Traditional Counselling Does not Work for Me. This theme reported the areas of AS that participants wanted therapists to know about (e.g. emotions, communication, sensory issues). 3) The importance of the therapeutic relationship to counselling. This concerns the participants desire for a respectful relationship with a therapist who listens to and understands them. 4) What is wanted from therapy: Practical strategies and interventions. The final theme briefly outlines participant feedback about specific practical strategies or interventions.
Discussion: The findings provided important insights into the wants and needs of participants including the attitude they wanted from therapists, and what they wished therapists knew about AS. It is recommended that those working with this client group educate themselves about the traits of AS, and that they pay attention to their attitude and to the relationship between themselves and their client. Further discussion points are raised such as the applications of relational therapy, and the different presentation in women and men.
Files
Downloadable Citations