Novel reductive-reductive mode electrochemical detection of Rohypnol following liquid chromatography and its determination in coffee
Honeychurch, Kevin C.; Davidson, Gwen M.; Brown, Emma; Hart, John P.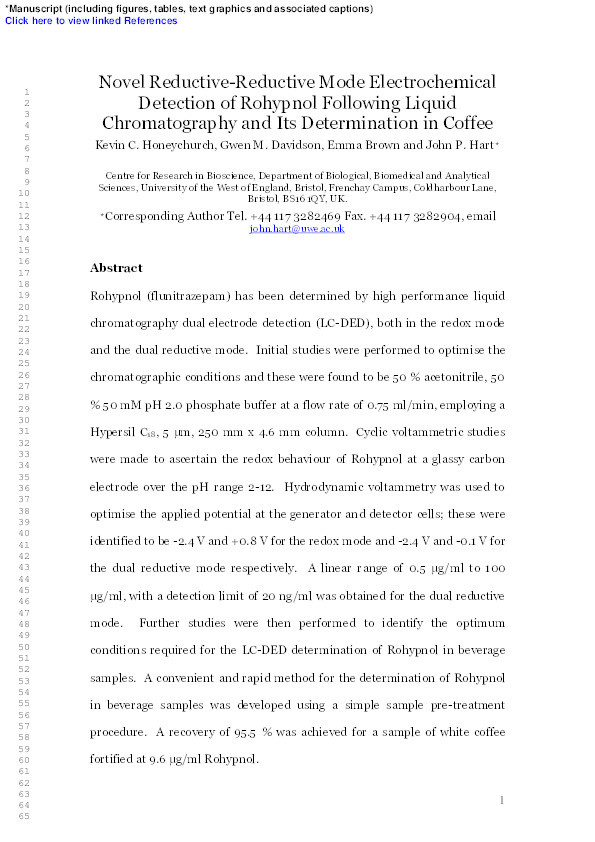 Authors
Abstract
© 2014 Elsevier B.V. Rohypnol (flunitrazepam) has been successfully determined in coffee by high performance liquid chromatography dual electrode detection (LC-DED) in the dual reductive mode. Initial studies were performed to optimise the chromatographic conditions and these were found to be 50% acetonitrile, 50% 50mM pH 2.0 phosphate buffer at a flow rate of 0.75mLmin-1, employing a Hypersil C18, 5μm, 250mm×4.6mm column. Cyclic voltammetric studies were made to ascertain the redox behaviour of Rohypnol at a glassy carbon electrode over the pH range 2-12. Hydrodynamic voltammetry was used to optimise the applied potential at the generator and detector cells; these were identified to be -2.4V and +0.8V for the redox mode and -2.4V and -0.1V for the dual reductive mode respectively. A linear range of 0.5-100μgmL-1, with a detection limit of 20ngmL-1 was obtained for the dual reductive mode. Further studies were then performed to identify the optimum conditions required for the LC-DED determination of Rohypnol in beverage samples. A convenient and rapid method for the determination of Rohypnol in beverage samples was developed using a simple sample pre-treatment procedure. A recovery of 95.5% was achieved for a sample of white coffee fortified at 9.6μgmL-1 Rohypnol.
Citation
Honeychurch, K. C., Davidson, G. M., Brown, E., & Hart, J. P. (2015). Novel reductive-reductive mode electrochemical detection of Rohypnol following liquid chromatography and its determination in coffee. Analytica Chimica Acta, 853, 222-227. https://doi.org/10.1016/j.aca.2014.09.033
Files
ACA-S-14-01951.pdf (325 Kb)
PDF
You might also like
Downloadable Citations