Mental and physical health: Re-assessing the relationship with employment propensity
Pacheco, Gail; Page, Dominic; Webber, Don J.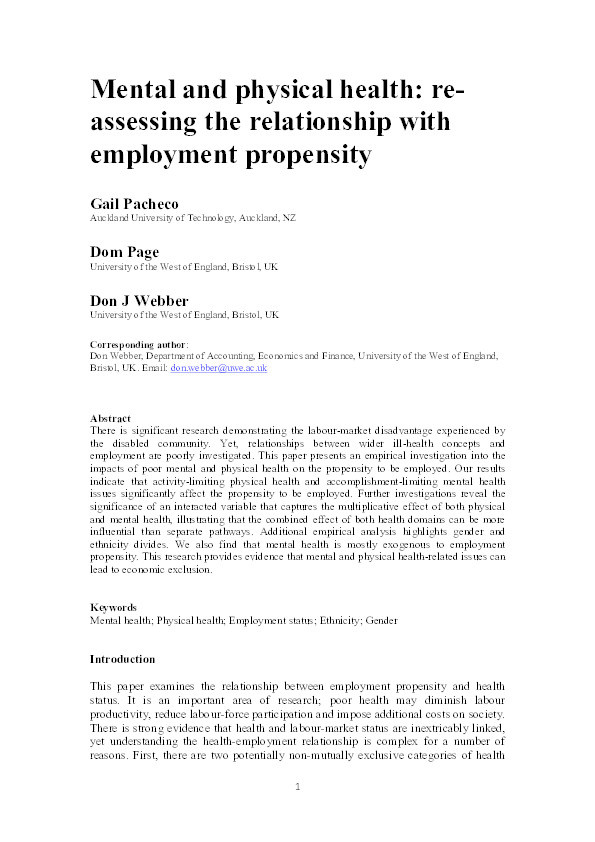 Authors
Abstract
There is significant research demonstrating the labour market disadvantage experienced by the disabled community. Yet, relationships between wider ill-health concepts and employment are poorly investigated. This article presents an empirical investigation into the impacts of poor mental and physical health on the propensity to be employed. The results indicate that activity-limiting physical health and accomplishment-limiting mental health issues significantly affect the propensity to be employed. Further investigations reveal the significance of an interacted variable that captures the multiplicative effect of both physical and mental health, illustrating that the combined effect of both health domains can be more influential than separate pathways. Additional empirical analysis highlights gender and ethnicity divides. It is also found that mental health is mostly exogenous to employment propensity. This research provides evidence that mental and physical health related issues can lead to economic exclusion. © The Author(s) 2014.
Citation
Pacheco, G., Page, D., & Webber, D. J. (2014). Mental and physical health: Re-assessing the relationship with employment propensity. Work, Employment and Society, 28(3), 407-429. https://doi.org/10.1177/0950017013491450
Files
You might also like
Downloadable Citations