Why did UK governments cut road building in the 1990s and expand it after 2010?
Melia, Steve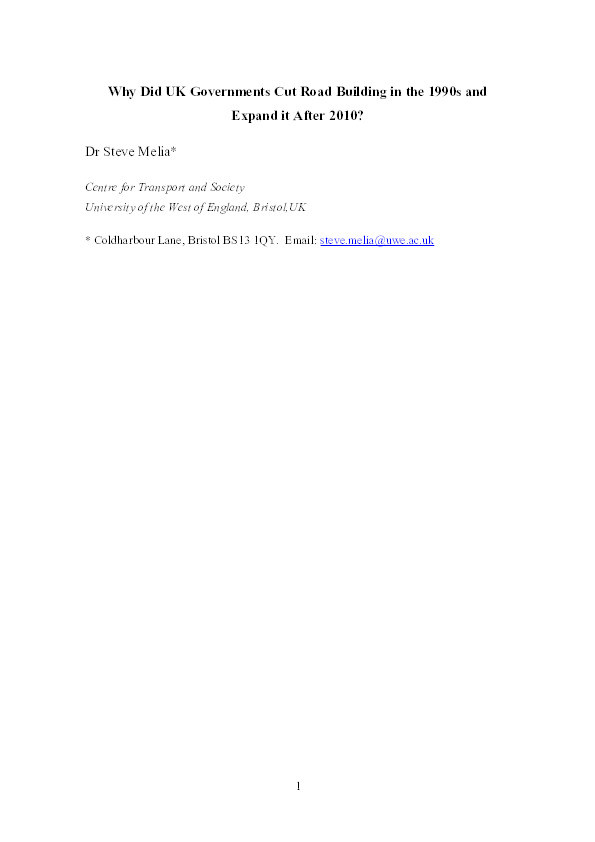 Authors
Steven Melia Steve.Melia@uwe.ac.uk
Senior Lecturer in Transport Planning
Contributors
Abstract
Why did a Conservative UK government decide to cut back road building during a time of austerity in the 1990s, whereas a Conservative-led Coalition government decided to substantially increase road building during a time of austerity after 2010? This study aims to answer that question drawing on 32 interviews with ministers, advisors and others, and secondary analysis of media coverage and public opinion. It uses Critical Realist methods in a more specific way than previous studies, representing the key actors, causal mechanisms and changes in underlying social structures in diagrammatic form. It concludes that three mechanisms: a rational response to changing transport circumstances, changing economic ideology prompted by the recession of 2007-9 and public opinion, influenced by the protest movement in the 1990s, explain the contrasting decisions. It identifies key actors who influenced government decisions and explains how a Critical Realist analysis questions the traditional concept in transport studies of causal factors and their relative importance.
Files
Why Did UK Governments Cut Road Building In The 1990s And Expand It After 2010 (656 Kb)
PDF
Licence
http://creativecommons.org/licenses/by-nc-nd/4.0/
Copyright Statement
This is the author's accepted manuscript. The published version can be found on the publishers website here: https://doi.org/10.1016/j.tranpol.2019.07.006
Why Did UK Governments Cut Road Building In The 1990s And Expand It After 2010 (264 Kb)
Document
Licence
http://creativecommons.org/licenses/by-nc-nd/4.0/
Copyright Statement
This is the author's accepted manuscript. The published version can be found on the publishers website here: https://doi.org/10.1016/j.tranpol.2019.07.006
You might also like
Downloadable Citations