Does transport investment really boost economic growth?
Melia, Steven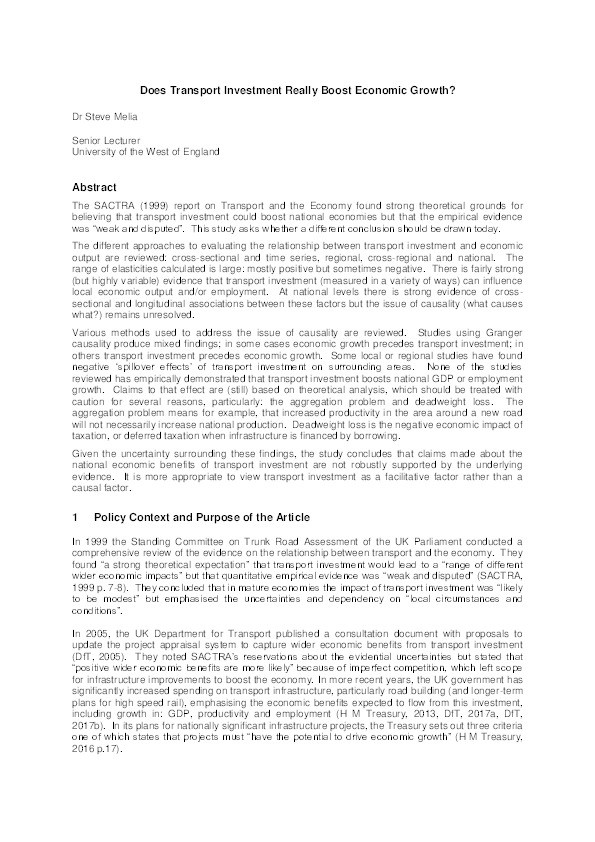 Authors
Abstract
The SACTRA (1999) report on Transport and the Economy found strong theoretical grounds for believing that transport investment could boost national economies but that the empirical evidence was "weak and disputed". This study asks whether a different conclusion should be drawn today.
The different approaches to evaluating the relationship between transport investment and economic output are reviewed: cross-sectional and time series, regional, cross-regional and national. The range of elasticities calculated is large: mostly positive but sometimes negative. There is fairly strong (but highly variable) evidence that transport investment (measured in a variety of ways) can influence local economic output and/or employment. At national levels there is strong evidence of cross-sectional and longitudinal associations between these factors but the issue of causality (what causes what?) remains unresolved.

Various methods used to address the issue of causality are reviewed. Studies using Granger causality produce mixed findings; in some cases economic growth precedes transport investment; in others transport investment precedes economic growth. Some local or regional studies have found negative 'spillover effects' of transport investment on surrounding areas. None of the studies reviewed has empirically demonstrated that transport investment boosts national GDP or employment growth. Claims to that effect are (still) based on theoretical analysis, which should be treated with caution for several reasons, particularly: the aggregation problem and deadweight loss. The aggregation problem means for example, that increased productivity in the area around a new road will not necessarily increase national production. Deadweight loss is the negative economic impact of taxation, or deferred taxation when infrastructure is financed by borrowing.

Given the uncertainty surrounding these findings, the study concludes that claims made about the national economic benefits of transport investment are not robustly supported by the underlying evidence. It is more appropriate to view transport investment as a facilitative factor rather than a causal factor.
Citation
Melia, S. (2018). Does transport investment really boost economic growth?. World Transport Policy and Practice, 23(3&4), 118-128
| | |
| --- | --- |
| Journal Article Type | Article |
| Acceptance Date | Nov 9, 2017 |
| Publication Date | Jan 1, 2018 |
| Publicly Available Date | Nov 10, 2017 |
| Journal | World Transport Policy and Practice |
| Print ISSN | 1352-7614 |
| Peer Reviewed | Peer Reviewed |
| Volume | 23 |
| Issue | 3&4 |
| Pages | 118-128 |
| Keywords | economic impacts of transport, transport appraisal, wider economic impacts, Granger causality, cost-benefit analysis, transport infrastructure, economic growth |
| Publisher URL | http://worldtransportjournal.com/ |
Files
Does Transport Investment Really Boost Economic Growth.pdf (215 Kb)
PDF
You might also like
Downloadable Citations