The development of methodologies for color printing in digital inkjet textile printing and the application of color knowledge in the Ways of Making Project
Gooby, Becky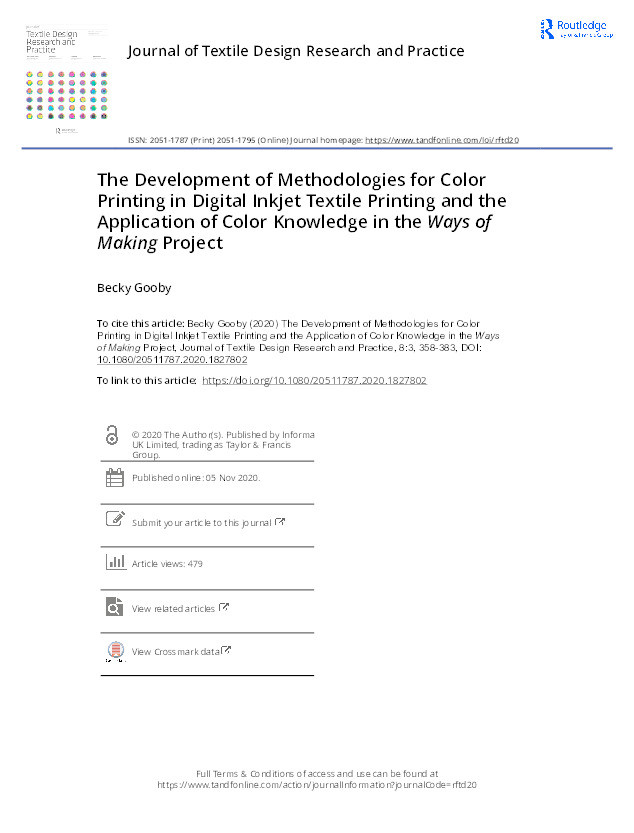 Authors
Becky Gooby becky@beckygooby.co.uk
Abstract
Digital textile printing (DTP) offers creative potential and entrepreneurial business models in textile design. Designers are no longer restricted to a number of colors or pattern repeat. It has become possible to print fabric without large set-up costs. This relatively sustainable technology reduces water-usage and dye-wastage. DTP meets Just in Time, Concept to Consumer demand, reducing stock wastage. However, there is a marked difference between screen-color to print-color and software allows a user to select colors unprintable using CMYK (cyan, magenta, yellow, black) colorants. Color results are further affected by factors such as structure and composition of the fabric, dye type, printer communications, fabric pre-treatments and secondary processes. A textile designer will be required to understand and experiment with a number of variables in order to feel color-confident.

This paper presents investigations which focused on developing methods to aid a designer's color expectation knowledge, using a Practice-as-Research methodology. Outcomes include a color reference book, digital lap dip tests presented as color maps, and a set of indicator ICC profiles, generated from data accumulated through measuring printed color differences on a variety of substrates. These visual prompts are intended to support designers to build their own internal color look-up table enabling them to predict and resolve color issues during the design process.

Finally, the paper concludes by presenting a Case Study detailing an application of these color methods by the researcher for the Ways of Making project, a collaboration between Sir Peter Blake, Worton Hall Studios and Centre for Fine Print Research (CFPR) at University of West of England (UWE). Here, the indicator profiles were applied to Blake's images, altering the color data to create experimental color modifications and printed onto silk. An initial selection of works from the project were exhibited at London Original Print Fair, Royal Academy, April 2019.
Citation
Gooby, B. (2020). The development of methodologies for color printing in digital inkjet textile printing and the application of color knowledge in the Ways of Making Project. Journal of Textile Design Research and Practice, 8(3), 358-383. https://doi.org/10.1080/20511787.2020.1827802
Files
You might also like
Downloadable Citations