Has the introduction of the cycle to work scheme increased levels of cycling to work?
Steven, Fiona; Avineri, Erel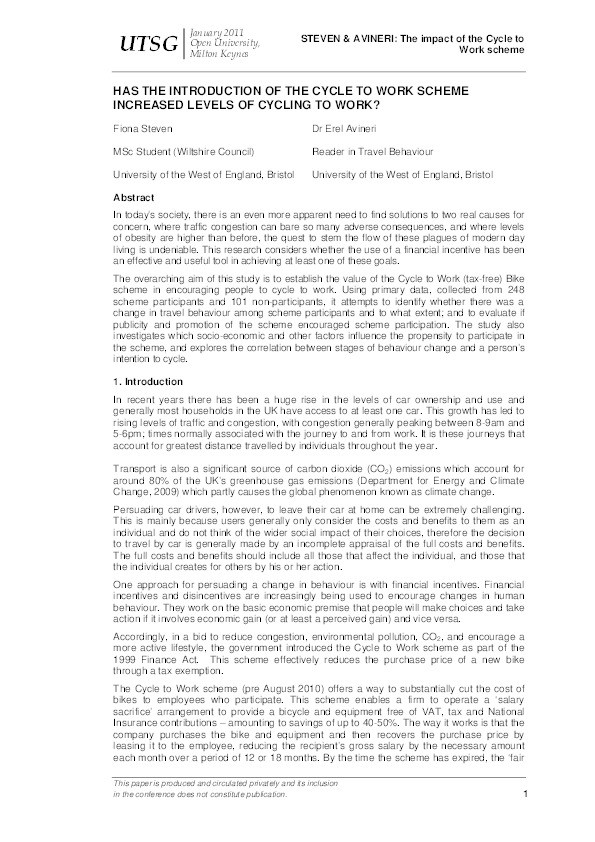 Authors
Abstract
In today's society, there is an even more apparent need to find solutions to two real causes for concern, where traffic congestion can bare so many adverse consequences, and where levels of obesity are higher than before, the quest to stem the flow of these plagues of modern day living is undeniable. This research considers whether the use of a financial incentive has been an effective and useful tool in achieving at least one of these goals.

The overarching aim of this study is to establish the value of the Cycle to Work (tax-free) Bike scheme in encouraging people to cycle to work. Using primary data, collected from 248 scheme participants and 101 non-participants, it attempts to identify whether there was a change in travel behaviour among scheme participants and to what extent; and to evaluate if publicity and promotion of the scheme encouraged scheme participation. The study also investigates which socio-economic and other factors influence the propensity to participate in the scheme, and explores the correlation between stages of behaviour change and a person's intention to cycle.
Citation
Steven, F., & Avineri, E. (2011, January). Has the introduction of the cycle to work scheme increased levels of cycling to work?. Paper presented at 43rd Universities Transport Study Group Conference
| | |
| --- | --- |
| Presentation Conference Type | Conference Paper (unpublished) |
| Conference Name | 43rd Universities Transport Study Group Conference |
| Start Date | Jan 5, 2011 |
| End Date | Jan 7, 2011 |
| Publication Date | Jan 1, 2011 |
| Publicly Available Date | Jun 8, 2019 |
| Peer Reviewed | Peer Reviewed |
| Keywords | cycle to work scheme, cycling |
| Additional Information | Title of Conference or Conference Proceedings : 43rd Universities Transport Study Group Conference |
Files
utsg2011_steven_avineri.pdf (272 Kb)
PDF
Downloadable Citations